Woo wee! This is going to kick some serious booty upon completion. :-) I worked on the knife a bit today too but have not inked my progress, so there's not much to see yet. But here's how far I got on the Wright Flyer side of the CCA grips (going to do this entire side first, and then the lighthouse side):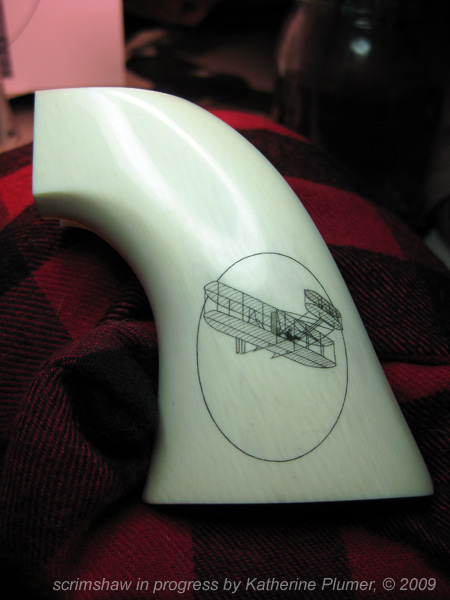 I'm hoping to squeeze in a bit of horsey time this weekend, since the weather is good. I so want to GO somewhere and trail ride, arg. Pity I can't fit my horse in my car.... I had go to into town this morning to run a few errands, so I stopped by the fabric store in search of cute fabric. I have in mind to sew some cute little dresses! I think this aunt gig is going to suit me well. ;-)
I baked a new dessert recipe tonight, it was called "brownie fudge dessert." That sounds pretty generic but it's an apt title, it really is somewhere between brownies and fudge. Maybe I'll post the recipe. Not tonight though, I've used up all my energy.