Like I said a while back, I have a lot of art that needs to go. And it needs to go for one of two reasons: I will have not have room to store it, or it's no longer the kind of work I am actively creating (therefore not something I take to art shows).
So I'm having a somewhat loosely organized "I'm moving and can't take it with me" sale. Today's featured art consists of chicken paintings!
These are all 6x6 inches, original paintings, acrylic on masonite. The backgrounds are all shades of metallic gold, which look REALLY pretty in some nice lighting! Each painting has a string on the back from which you can hang it, or if you'd rather prop it up somewhere or frame it, you can just remove the string!
They are $40 each. Shipping in the US is $7 for up to two paintings, or $10 for up to five paintings. If you want something shipped outside the US, I need to know what you want and where you are so I can calculate it! CA residents pay 7.75% sales tax. PayPal preferred (katherineplumer @ gmail.com, remove spaces), checks and money orders and cash are also fine. Proceeds will help offset moving expenses and the construction of new chicken coops!
Oh! The giant typed copyright text is NOT on the original paintings, that's just for my web images!
Interested? Comment, email, call, etc. :-)
Red Pyle Old English Game rooster
Black Minorca hen
Wheaten Aseel rooster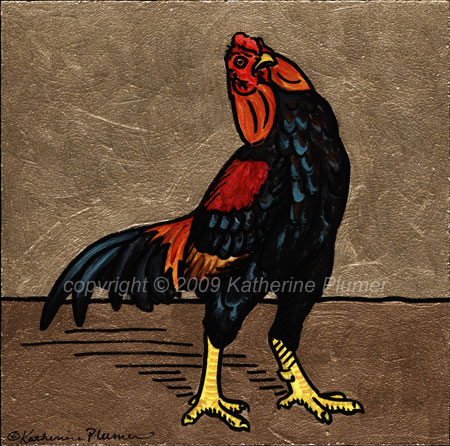 Mille Fleur Belgian D'Uccle Bantam rooster
Buff Brahma rooster
Brown Red Old English Game Bantam hen
Buff Laced Polish rooster
Black Sumatra rooster
Mille Fleur Belgian D'Uccle Bantam rooster (head)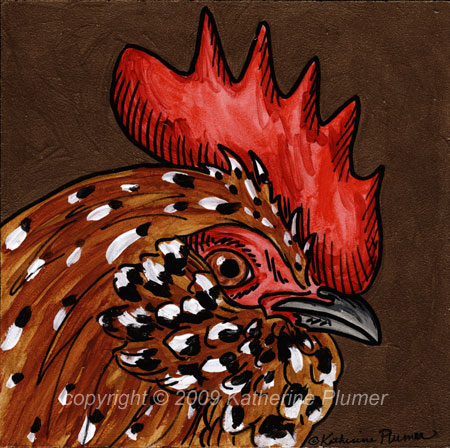 Black Tailed White Japanese Bantam rooster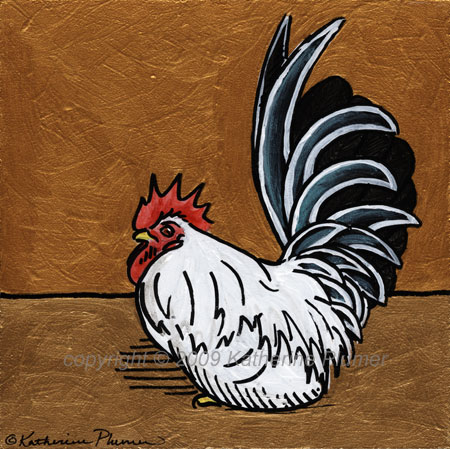 Brown Red Sumatra rooster
Red Pyle Rosecomb Bantam hen
Lemon Blue Modern Game Bantam hen
Black Rosecomb Bantam hen:
Blue Ameraucana rooster
Silver Penciled Plymouth Rock Bantam rooster
Wheaten Aseel hen
White Crested Black Polish rooster
Partridge Wyandotte Bantam rooster
Blue Orpington Bantam rooster
Dark Brahma rooster