Geez, I can't believe it was just yesterday! That was the first time I have shown a horse (it was just a playday, but the most group-oriented thing I ever did before this was trail riding). It was Shylah's first experience with all sorts of new things.
W brought her horse over Friday afternoon, so Mischief and Shylah spent a day and night together in the corral and were getting along pretty well by morning (which is good, because we had to pack three horses into an undivided three horse slant trailer that day). We left here at 6, picked up another teammate along the way, and arrived shortly after 8am. I've known W for years but this was the first time I ever met the other ladies on the team. Good group! :-) I was a late add to the team, substituting for someone who had a conflict that day.
Anyway, Shylah was pretty unconcerned. It was this kind of mad rush to get tacked up and get dressed and get ready for the opening parade at 9am. I ran out of time to braid her mane (just as well) forgot to put the red ribbon (symbol of a horse that kicks) in her tail, etc. I was nervous as heck. She was fine. I was imagining everything she might spook at (rigs, horses, flags, flappy costumes, loudspeakers, crowds in bleachers, dogs, music, barrels and poles, you name it). She didn't spook at anything. She gave the white barrels a funny look just once but that was it (my practice barrels are black and red). She was calm and steady all day. Early on she did not appreciate being left alone tied to the trailer, and at one point someone came up and said "your horse is freaking out!" She had one rein on the ground (new hoof marks in it now, great) and was probably doing her stupid pull-back-really-hard thing... her one really bad habit. By the end she didn't care. So even just spending most of a day tied to a trailer was probably good for her.
I was in only three classes (out of ten). This being my first show and her first show I wanted to take it easy since I didn't know how she would behave. Plus it really is mostly a speed competition with the lowest group time winning, and with that bouncy funky canter I had zero interest in doing more than a trot. That was fine, but my victory lap must have looked pretty stupid. The rest of the team did a victory canter around the arena. I did a victory trot in a little circle in the middle. Oh well. Maybe people thought she was just some weird gaited horse with no canter. ;-)
The outfit really was awful. The theme was "Las Vegas" and we were the "Money Honeys." Apparently the dresses came from a lingerie shop. Yup, I can see that... I did some last minute alterations and sewed on green straps because I was concerned about having a major malfunction. I had a shirt on underneath, but still. It was really unflattering, I have no delusions about how I look in this. Trust me, I know, it's bad, these pics are a tad embarrassing... We DO have pants on!!! We were asked about that several times. Yes indeed, all team members are wearing breeches or tights (yet another reminder of why I ride Western!) with fishnet stockings over the top. Some of the ladies with the flesh colored tights really looked naked. Those skirts didn't even cover everything... Even though I knew I had pants on it was impossible not to be incredibly self conscious about "my butt's hanging out!" Next year I think they should let me pick the outfit.
Oh, and fishnet tights on a slick seat saddle = NO GRIP WHATSOEVER. Criminy. Good thing I didn't go fast, I would have slid right off my horse! I probably won't make a habit out of riding in fishnets.
So over all it went really well. If you read the previous post then you already know we won. We won the whole show (because we had the fastest group time and very few penalties) and we also won the costume competition (we were in costume ALL day, omg it was good to take that thing off and get into jeans!). I'm super impressed with how Shylah did, she was cute, everyone liked her (except when she chomped a girl's straw hat, oops!)
Now I know you want pics.
The Bay Area Equestrian Network Team, aka The Money Honeys.. left to right: Noelle, me, Wendy, Leesha, Alena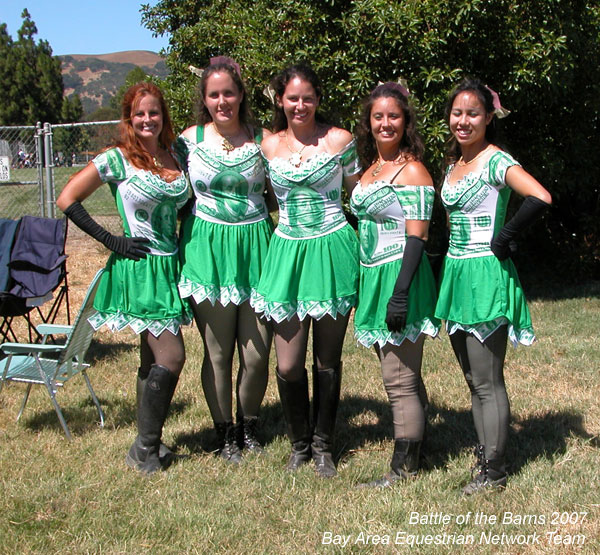 Trotting around barrels in a trot-only class... (Shylah is about 14.2, in case you are wondering. Tallest person on the smallest horse...) :-)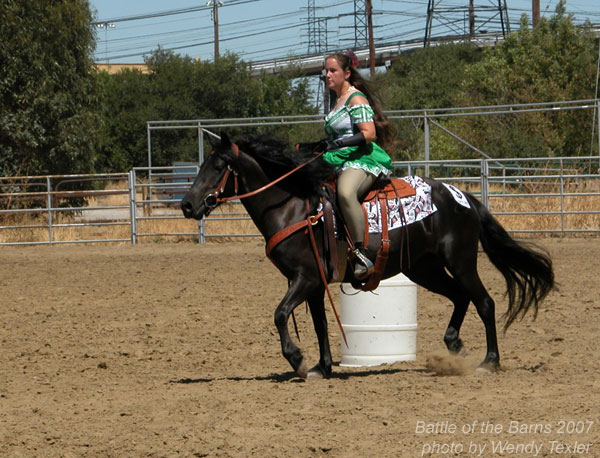 Shylah tied in "camp"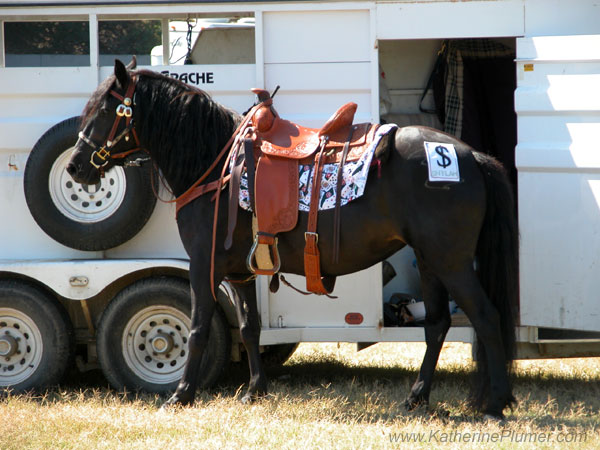 She was very concerned about getting close enough to W and Mischief to hand off the baton.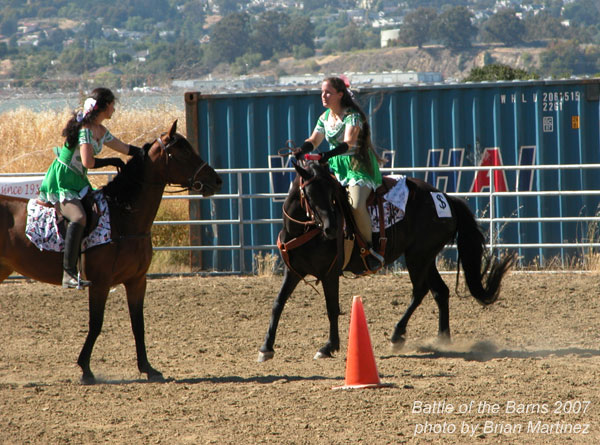 Well it's a cute pic of Shylah anyway..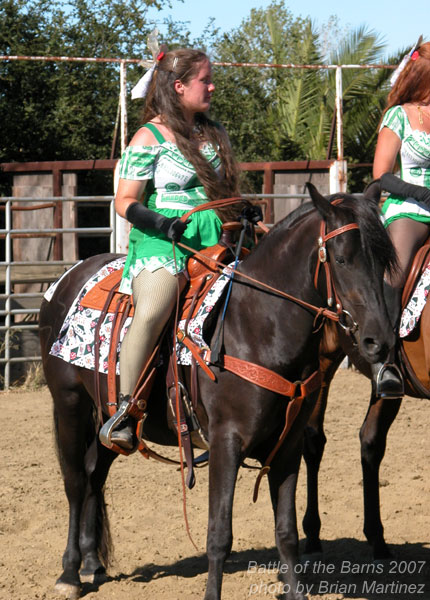 Shylah eating the Grand Champion ribbon.
Except when I was competing, I was the designated photographer...
Noelle and Cadet: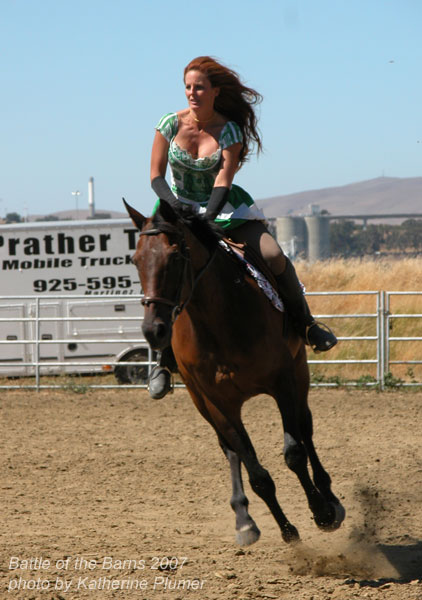 Wendy and Mischief: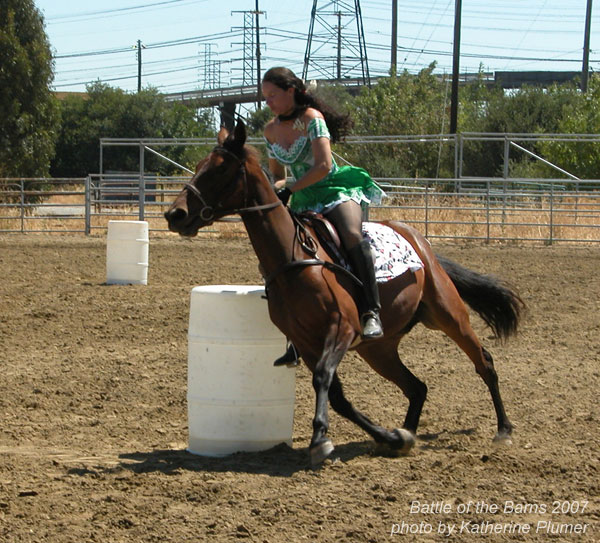 Alena and Cindy:
Leesha and Sans: