I need to catch up on answering emails. That's sort of a mass apology to everyone who's asked or told me something in the last couple weeks (or entire lifetime) and has not received a proper reply.
The art works in progress are going well. I have not been photographing the drawing in progress. It just dawned on me I should have been doing that so I could post a WIP after the fact. D'oh. Oh well.
Since the trail ride today got cancelled and that gave me an entire weekend to work on art, I decided to get out of foggy valley yesterday and headed up the foothills for another day of adventuring with BV. Didn't find any real great riding areas this time (not that are easily trailer-accessible anyway). We had a destination in mind, a lookout point high up on a mountain, but the little GPS thingy didn't know that every gate on every road that lead to this place would be closed. Strangely, we seemed to be in the part that was closed off, so go figure. Never did make it to the destination but had a little picnic dinner alongside a pretty creek as the sun set, and it was really quite a lovely day. :-) And cold. Really freakin cold. Soon it will be snowy there and even more of those roads will be closed. Here are some pics of the creek (river?):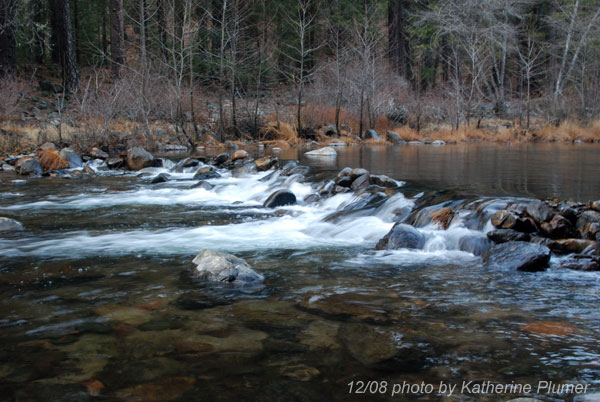 Today I've mostly been working on art. I did put up the outdoor Christmas lights this afternoon, which I haven't done for a few years. And Mom asked me to help decorate some cookies this afternoon. Bwahaha! It's dangerous asking me to do that, because I just can't resist doing things like this (if you haven't seen The Christmas Story then the red one with white text won't make sense, and remember you can click on the pics to see them bigger):
Alrighty, I just downed an iced tea, so hopefully that will be a little caffeine boost to keep my fingers drawing for a while longer tonight.