Yay, I can finally post this! :-) Well, I shouldn't say "finally" I guess, I only finished it on the 23rd!
This project is a pendant featuring a Doberman Pinscher dog named "Rosie." It's a 30x40mm pre-ban elephant ivory cabochon, set in sterling silver, and it was a commissioned Christmas gift. I scrimmed it in full color, and it used 8 different mixes of ink. So I guess you could call it an 8-color scrim! I'm also big on gradation and tonality, so there is light and dark within each color of ink. It takes me a loooong time to build up the layers from light to dark, and then to layer the various colors. But the process is so worth it to get the right look!
I'll show you the work in progress pics. These are photographed under various lighting conditions over several days. Please pardon the weird yellowish tone to some of the pics.
The outline lightly transferred to the ivory (out of focus, sorry):
The outline heavily scrimmed. That's not really something that has to be done, it's just my style of working, I think it helps make tiny images a little easier to "read"!
Okay, so at this point I had this major dilemma of what order I wanted to work in. Originally I was thinking I'd start with the darkest areas. But I didn't want to. I want to go light to dark like I'm drawing even though I think most people go dark to light. ;-) Yes, that right there is the extend of my rebellious streak I think! But I figured doing the eyes and nose first made sense:
And then the pink of the ears and muzzle:
Then all the tan areas (this took a few layers to get it dark enough, but I didn't photograph all that):
Starting the dark reddish brown: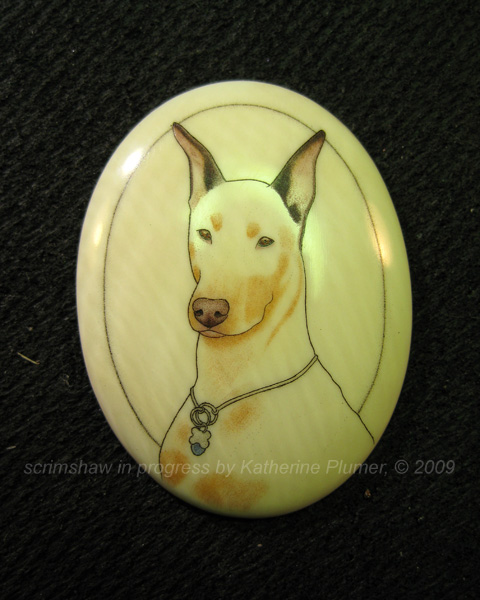 Building up the dark color on the face: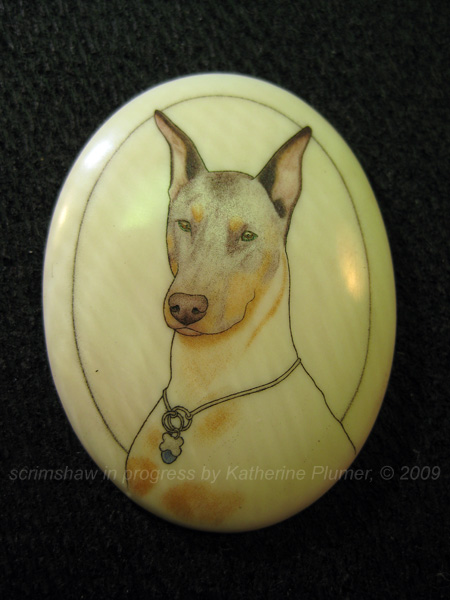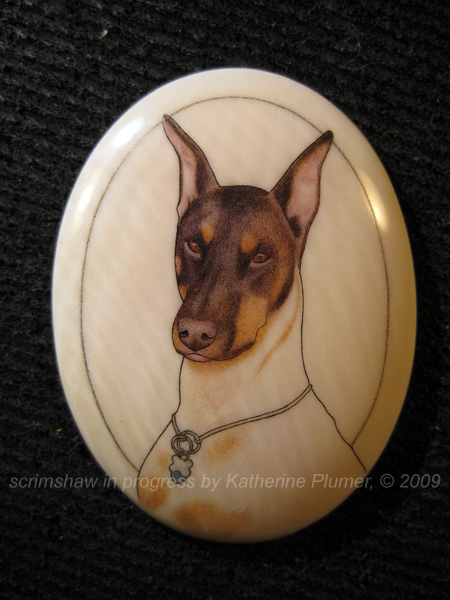 Starting work on the neck:
Then I forgot to photograph it for a while until all the dark color was on:
Added a darker tan to the tan areas (yes, I do sometimes "backtrack" to work on colors):
At that point all that was left was to darken the darkest brown areas with the last layer of color. And then it was done!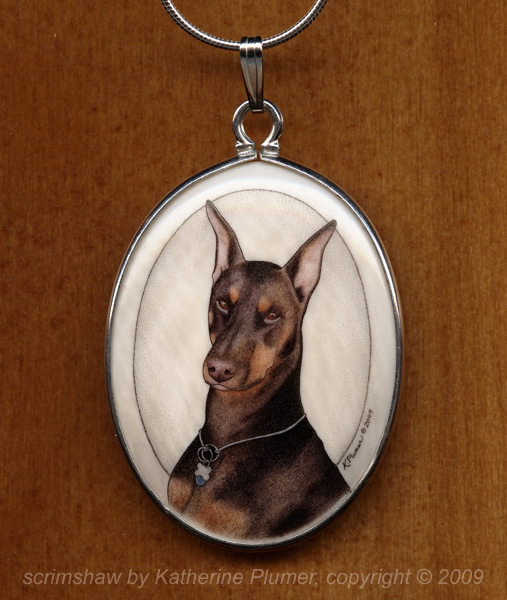 And with a penny for scale:
What I hope you can see in this pic is that it ends up pretty heavily engraved, though you can't really feel it much with your fingers. There is NO surface ink. It's all down in the dots, and I buff these things down quite hard between ink layers!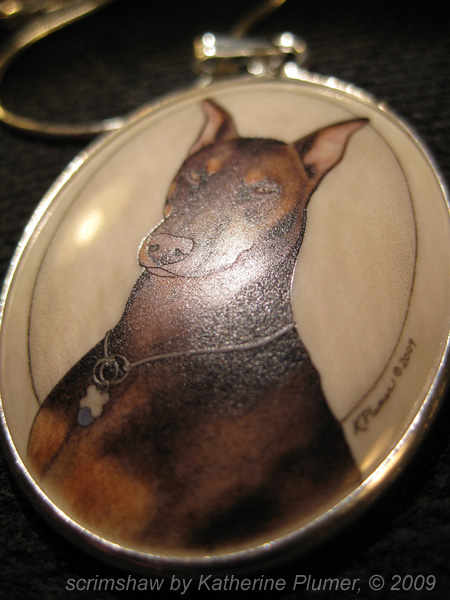 The pendant with the original reference photo (the color in the original photo was pretty bad, that's where knowing the subject matter comes in handy!)