Hey local people, head on out to the Harvest Fair at the Davis Ranch in Sloughhouse tomorrow between 9 and 5 (you know, the corn stand) and pick my pumpkin! That sounds weird... What I mean is vote for the pumpkin that I devoted 4.5 hours to carving today! It's "people's choice" voting, so choose mine! I want to win! :-D
Since they're getting judged in daylight, I didn't want to do the jack-o-lantern thing, so I engraved (psh, carved? Eh, it's more engraved I guess!) a dragon on a funny pale squat pumpkin. I picked one of the unusual kinds because of the interesting contrast with the inner color, the smooth skin (so much easier to "engrave"!) and well, because it's different than a big orange pumpkin.
Oooh my fingers hurt! That's a lot different than the kind of work I normally spend my day doing!
Thanks Jan for the pics of me!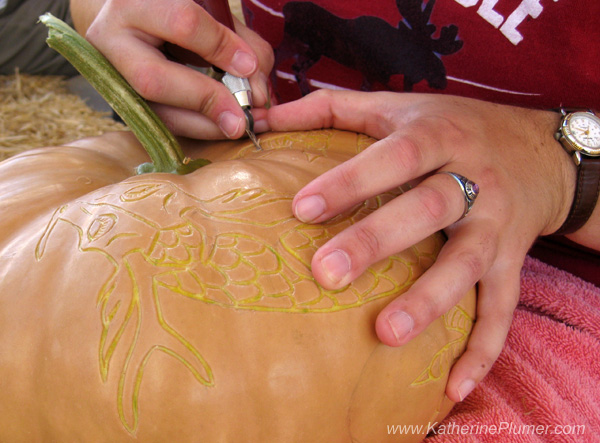 4.5 hours of sitting on the hay bale later...
Look at all the chips!
Yeah, it's kinda weird, but cool!