The wolf scrim is about an hour or two from completion, which will happen tomorrow. I'll just keep you in suspense til then. :-)
Planning ahead a bit, I will need to order frames for several new scrim pieces before the show in Jackson. I've had them framed in several different styles, some pretty posh and some more simple. This is one of the really top notch frames: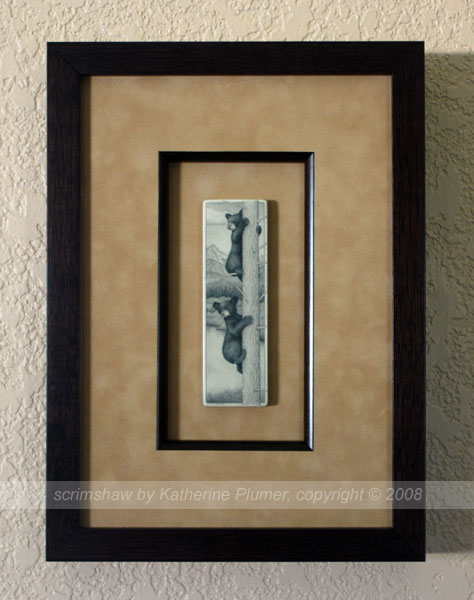 It has glass on it. Most of them do. But I'm second-guessing that and would appreciate some input on it. The upside is it keeps them safely protected and unquestionably clean. Glass keeps the dust out. On the down side, the reflection can make it hard to really appreciate the work. See, it reflects the lights and such:
I actually think they might look nicer without glass. People want to touch scrim. That's fine! Just don't do it with greasy fingers, ink-removing solvent, or sandpaper! I guess the thing that most concerns me is that dust would collect inside the frame. That could be blown out, but do you think that's a problem?
What do you think, glass or no glass? If you owned one (or if you actually DO own one), would you rather be able to see the piece without anything covering it? Thanks!