Saturday morning I drove out to UCDavis with Mom. She's decided to do this major back yard landscaping thing, the goal of which is to eliminate much of the yard itself to conserve water. It's now at the "okay, grass is dead and this looks ugly, now what" stage. I suggested the arboretum for inspiration for things to plant around the trees. There is a lot of new stuff in the arb since I was a student there, and I kept remembering all the particular benches and tables where I used to eat lunch with various people, or where I used to study between particular classes. I'd forgotten how much I liked that place, it's really quite pretty.
Here's a view of the corner of the building that was my home away from home (the art building):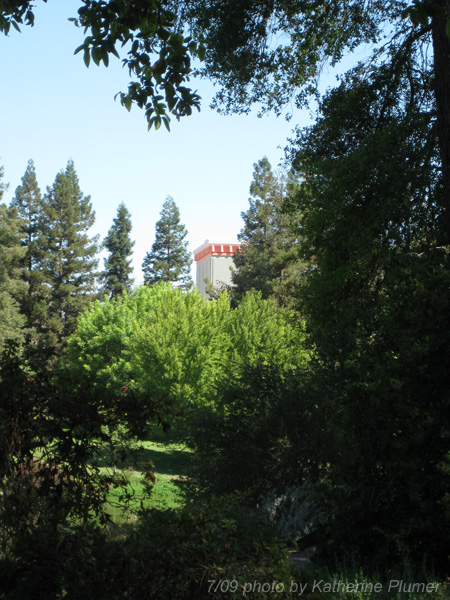 I had not been back to the art building for about three years. I stayed on and worked as a lab assistant in the printmaking lab for several years after I graduated. It was fun, it allowed me to keep doing printmaking work as well as be of some help to the instructor and students. But after my "boss" retired it just wasn't the same anymore and the new boss never really kept in touch at all, so after a while I fizzled out. But I'd left my litho stone there, and Saturday I brought it home (and was also shocked to find my old apron and supplies in the locker where I'd left them three years ago). I'd forgotten that I left "Levade" on the stone and didn't grain it off. I'm glad. I have absolutely no idea where to put the stone, and have some doubts that I will ever do litho again, but we'll see. I love that I understand the process, and it's an awesome art technique, it's just not what I'm doing these days.
Anyway, then Mom and I went to see Star Trek in the theater (can't believe it's still playing!) because she had not seen it and I was totally in favor of seeing it again! Not only is it awesome, but young Spock makes my heart go giddyup. Really. ;-)
In the late afternoon I spent some time at the scope and worked on scrim, and then watched "The Wrestler" in the evening. Egads I don't know how people can watch wrestling, it makes me cringe!
Today I picked more blackberries, cleaned brooders and moved chicks around, and spent most of the day finishing the pendant I've been working on. I'm done, I'll show you in a few weeks. :-)
I HATE THIS WEATHER. It was 110 today. Whine whine whine.
I have been listening to Pride and Prejudice again on audiobook. I needed a break from music, so I'm going through my audiobooks again. I still get totally engrossed even though I know the story and have heard it before and seen the movies, etc. But it really makes me want to write very eloquently. Obviously I'm not, but I was thinking about what I was going to write tonight and in my head it was coming out all hoity toity sounding. Thus, at present I think I shall retire to the drawing room. ;-)