I'm done baking like a crazy person!
Okay, well probably not, obviously I'll keep baking because I'm sort of obsessed now, but I'm done with my official wedding-baking duties, and everything turned out great! The wedding was gorgeous. I've known the family since the mid/late 80s, so since the bride was just a little kid! It "takes a village" to pull off a wedding! It's really something to see this group of friends who have known each other for such a long time all come together to clean up and set up and cook and make everything so nice.
I spent the day in the "cold room" frosting cupcakes and arranging dessert platters, which I'd have to say was the cushy job compared to all the people who were outside setting up tables or in the super-hot kitchen making dinner!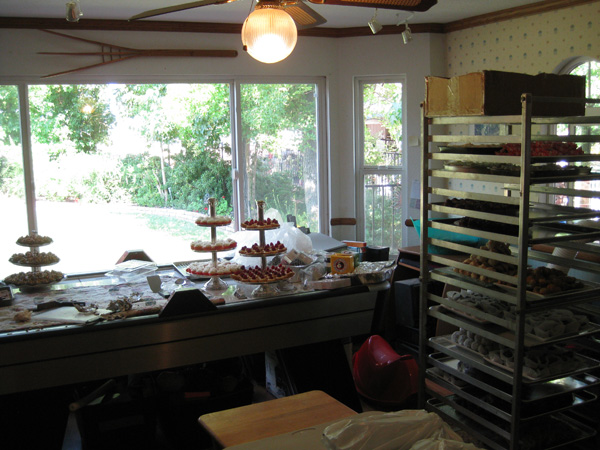 Here's the dessert tables... wish it had been brighter so people really could have seen how pretty everything was! I made probably about a third of the items on the table. I have no idea how many different people were baking, there was all kinds of stuff to be cut and arranged that day!
I was asked a few times if I bake professionally. Hee hee, no, I'm just a perfectionist artist who wants food to be pretty! And now I have a bunch of great new recipes, I learned some new baking tips, got some new gadgets, and had a great time making things for other people. My mom says that runs in the family, "we feed people." Indeed!
And now, I'm dangerously far behind on scrimshaw, and I set up for an art show in a week and a half, so excuse me while I pull some very late nights in the near future!
Oh yeah and I got to wear flowers and feathers in my hair, which was awesome, haven't done that since I stopped bellydancing! But everyone was supposed to wear a hair thingy or a hat, so I was all over it. ;-)