Well, the reception for my "Among Animals" art show was Friday evening. I'd set up the work on Tuesday, and then hauled in a bunch more little stuff for the reception on Friday. The weather was decent, the turnout looked pretty good to me! Huge thank you to those of you who came to visit, it means a lot to me. :-) It was great to see some familiar faces (some of whom I had not seen since high school, OMG! The wonders of Facebook!) and I got to talk to a lot of new people. People seemed to enjoy the art (and all the desserts I brought!), and I heard people commenting about the variation of work all from one artist; I had drawings, paintings, hand-pulled prints, and scrimshaw on display.
I had to explain what hand-pulled prints are: artwork that is printed by hand, not with a machine, from an "original" created on linoleum, wood, metal, limestone, etc. And I had to explain about ivory a few times. There's a common misconception that ivory is illegal. Ivory that has been in the US since before the ban in the early 70s is legal to buy and sell within the US, but there can be no import or export, and I buy from a reputable dealer who can verify their sources.
Anyway. The setup looked really nice. The gallery space is a dance studio, and is where I take bellydance lessons every Thursday evening, so I'm quite familiar with the space and get to see my work every Thursday this month, ha ha.
I took these pics before anyone showed up: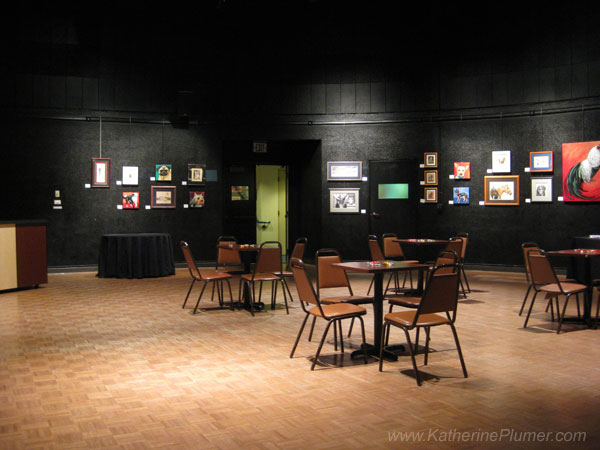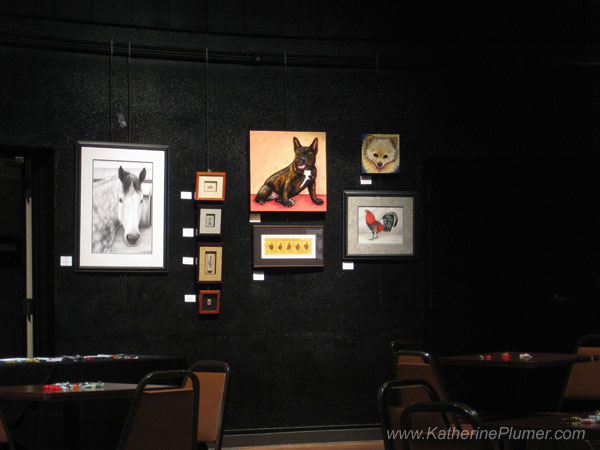 And here are some that CS took when people were around: