Photographed this afternoon:
Photographed tonight, not sure why it's so pink looking, oh well: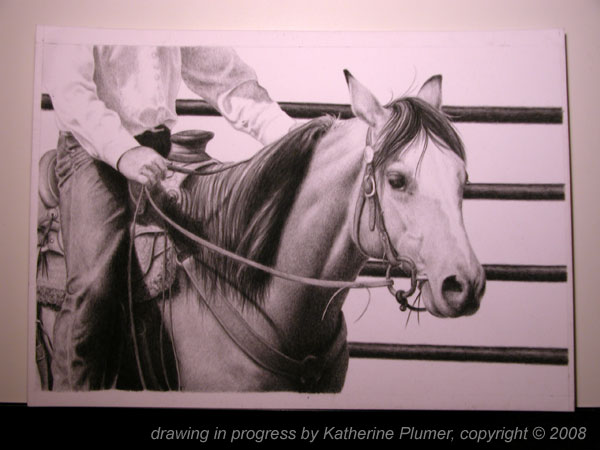 Still need to do the background. I'm really diggin graphite and velour! :-)
I mailed my entries today for the National Wildlife Art Museum's Miniatures and More show (Jackson Hole, September 2009). I submitted scrimshaw. I'm sure that will confuse them as to what category it should go in. They make it very clear this is über competitive and they hardly accept any new artists from year to year, so I'm considering this a long shot and assuming that I will not get in, because getting my hopes up would be foolish. I will not hear anything til probably some time in March 2009, so there won't be anything to say about it until then. I'd tell you to cross your fingers but that's a long time to wait. :-)
I need to think of a good image for a scrim on mammoth ivory. I want to try it out but I don't have anything brilliant in mind. I'm not sure how well I'll like it. I still need to polish it. I've been warned it tends to be pretty soft. That could be good or bad depending how soft. I have a whole page of sketches for "long skinny" images but somehow none of them seem quite right for mammoth.
I ordered a bunch of drawing ink and I'm just ridiculously excited about trying color scrim again now that I have a hunch it might actually work! I'll probably start with a pendant of some sort, just something small to experiment with.
I want to do another tutorial. There's another contest going on... I want to win another, that would get me closer to getting an airgraver... (because right now it's still quite a ways off). Hmmmm....