I wish I had photos of what happened, but I'll take a cue from another blog I read and do a little photoshopping to help you imagine what I saw!
I had just gotten out of the pool yesterday morning, following a hot 3 mile walk with Angus, and was sitting in the back yard sunning my toes when I heard the chickens go on "full alert" and saw a Cooper's Hawk land on the corral fence where the chickens and ducks hang out. Eeek, the babies!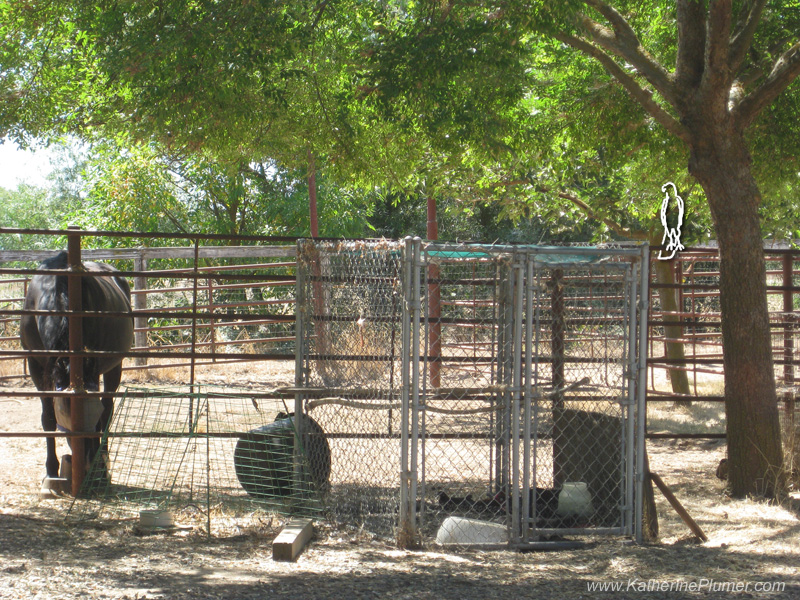 Angus and I made a hasty beeline for the back gate and ran out to the barn, and as I got closer the hawk took off and flew toward the yard, and I was grateful to see there was nothing clutched in its talons. I love raptors, for the most part, but I really hate Cooper's Hawks... So I watched it fly in front of me, maybe just 8 or 10 feet off the ground, and Angus barked at it.
And then I realized there was another bird hot on its heels, just a few feet behind and a few feet lower but moving right a long. What the heck? I did a double take, probably a triple take, it just didn't register at first what on earth was chasing the hawk...
Holy crap! It was the mama hen! I have seen these little hens go to extremes to protect their babies, (attacking cats, screaming up at hawks that land on coops when birds are enclosed) but I have NEVER seen a hen chase a hawk on the wing. I was absolutely blown away. Don't mess with a mama hen!