Nope, I haven't fallen off the face of the earth quite yet. Think of this as prepping for the upcoming small break from my blog. ;-) Actually no, I've just been busy and frazzled and my brain is getting mushier by the second.
First, some WIPs: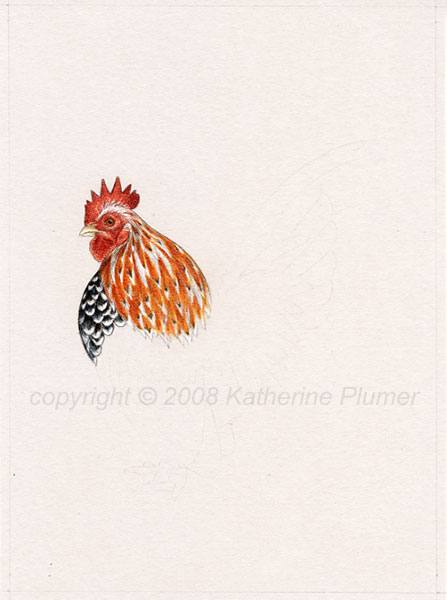 This is a portrait of Vichi, a Serama rooster. I was saddened to learn recently that Vichi passed away last month. I remember meeting him, he was standing on the desk in my art booth and I was lightheartedly admonishing his owner that "he'd better not poop on there!" These WIPs are posted with permission.
5x7 inches
colored pencil, graphite, ink
on gray Stonehenge paper
And then we have the elk tooth scrim in progress!
The subject matter is, of course, an elk (I figured at least the first one better be an elk. Did I post the before and after pic of the teeth? I don't think so. Looks a lot better after cleaning and polishing doesn't it!
It's a pretty nice surface to work on, much harder than elephant ivory (which makes it tough to get dark areas) but the nice thing about the hardness is it doesn't scratch easily. I am working this right now as though it's going to be done in color, and I'm fairly sure it will be, but I'll get all the black areas in there and then decide. I think the image would lend itself well to color, it's just sort of a time constraint (because there won't be time to let anything dry in between). It's really dang small!
There is no way I'm going to get the bear cub scrim done, or probably even worked on at all. I have more or less decided to do that one black and white (or sepia perhaps). Color isn't going to look right on the tan micarta, the clouds and sky would just end up looking kind of muddy.
I ventured up to the barn loft today (OMG the dust!) in search of old toys (to sell on ebay). I thought I'd kept a bunch of old GI Joe stuff but I couldn't find it, maybe it's elsewhere, or in an unmarked box. I did find my old My Little Ponies, which I'd been thinking about following a recent discussion with someone. I was surprised at how few I had: only ten, and two babies. I could have sworn I had more, but I know I kept them all. Huh. I was completely tickled to stumble across the Puzzletown box, I darn near had to pull that out and play with it, but I resisted. I LOVED Puzzletown and had completely forgotten about it.
A Mockingbird is singing very loudly in the front yard. Hot Stuff is playing on the iPod. (random!)
The eleventh anniversary of living here slipped past a couple days ago without me even realizing it. That's hard to believe, eleven years. A year shorter than I lived on the big ranch, a place that seemed like forever. I drove down that road the other day for the first time since I had to leave, it was surreal. I would think it was a dream if I hadn't had a witness. The old place looked completely different, and totally trashed. I really felt like it wasn't even real....
Countdown to The Adventure has begun. There are things I don't talk about here out of respect for privacy (um, mine!) but I'm having some trouble keeping my mouth shut. SO DANG EXCITED!!! :-)!!!