This morning, my mom found a hummingbird that was somehow stuck to the hummingbird feeder. I never quite figured out how that happened, but nevertheless, it was stuck.
The bird, a female Anna's Hummingbird, was in pretty sad shape. Who knows how long she'd been hanging there. She was fluffed up mostly kept her eyes closed... very weak.
I knew she needed to get some food if she was going to recover, I remember learning that hummingbirds expend so much energy flying that they have to eat often, so I mixed up a little bowl of hummingbird food. It didn't take her long to figure out where the good stuff was, and she eagerly drank and drank and drank. I sat with her perched in my hand for well over an hour as she warmed up and refueled.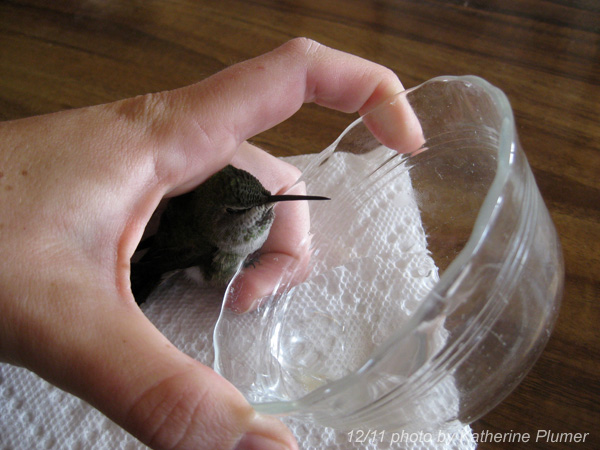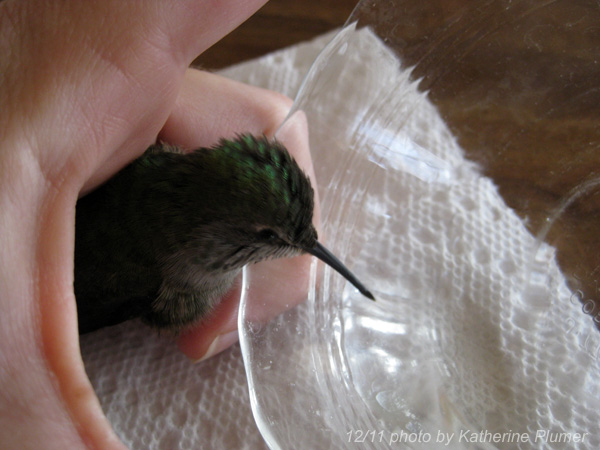 My niece Chloe came over for a visit and was pretty enthralled with the little bird. We named her "Princess Hummingbird" and she was very gentle about petting the little bird.
Look at those little feet! :-)
Much perkier!
Once the bird was bright-eyed, awake, looking around, and starting to move her wings around while sitting in my hands, I decided it was time to put her outside. I carefully placed her on the perch of the hummingbird feeder. She sat there for a bit, drinking more, and then buzzed away out into the yard.
Quite an experience holding such a little thing. :-)