If you're not into the chickens, you should skip this post.
I was waiting for a sunny and non-muddy day to sort birds. Today was sunny, but still muddy, but I decided to go ahead and start the "what to do with the chickens" process. See, I can't really figure out what to do til I know what I got, right?
FYI, C= male over a year, K= male under a year, H= female over a year, P= female under a year
Here's what I found:
4 large hens in egg layer flock (all will stay)
10 "pet quality" Rosecombs to either take to auction or sell as pets, mostly young, various faults make them non-breeder birds (all will go)
Of the following listings, at least a dozen will be kept, the rest sold. All are cream of the crop birds, my breeding pens, the best stuff I have.
BLACK:
4C (two are 100% my line, 2 are 50% my line)
3K (all 75% my line)
5H (2 are 100% my line, 3 are 50%)
6P (all 75%)
BLACK BREASTED RED:
3C (two are sentimental old "keepers" that have faults that should not be bred from)
6H
(I hatched no pure BBReds last year, only BBRed X Black, see next list)
BLACK BREASTED RED X BLACK:
(this was done to improve type, all are "Black Red" in color and need to be bred back to BBRed, or to each other)
3K
6P
BRASSY BACK:
1C
2K
2H (1 is "keeper" due to being extremely old)
1P
BLUE BRASSY BACK:
1K
4H
2P
BLUE (not purebred, he is from Blue Brassy Back X Black):
1C
BLUE SPLASH (may throw brassy genes?):
3P
GOLDEN DUCKWING-ISH:
1H (high % Old English)
------
So.... now I need to figure out how they would best be paired/penned for breeding (can do this on paper) and then figure out what I want to keep, and what to sell.
Here's everyone getting sorted (no they don't normally live in little cages!)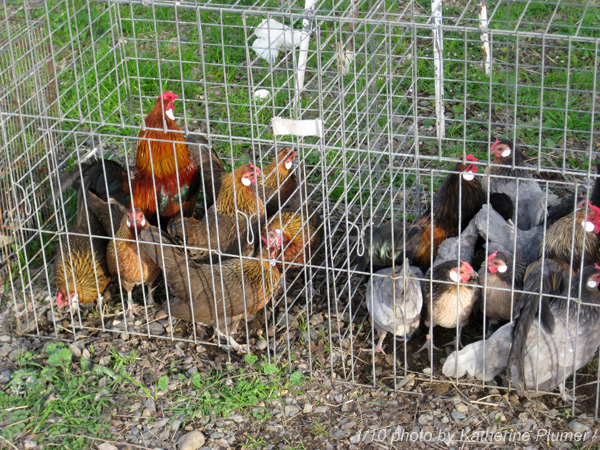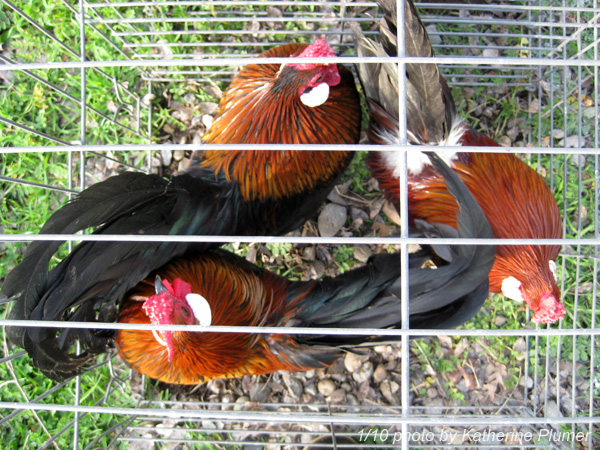 Oh yeah, and I went down to what used to be my "home" poultry show yesterday for a couple hours to drop off some birds. It was weird. I enjoyed visiting with a few good friends (who I seem to be able to count on one hand these days) but over all really didn't feel comfortable. I was amazed how many unfamiliar faces are there! Wow. Thank goodness for a few friends, and a good dinner and conversation after leaving the fairgrounds. :-) To REJ, I'm sorry I forgot the cream puff!!! You were sweet to save it for me, unfortunately I didn't remember it til I was halfway home. :-(