Since 2008 (six months after I started dabbling in scrimshaw), I have attended the yearly Firearms Engravers Guild of America show every January in Reno. I was finally able to exhibit for the first time this year. Glory be! The winds of change had started to blow in the guild the last year or so, and with some internal changes a-happenin' it was finally decided that scrimshaw could be exhibited. That was some supremely awesome news when I heard that last summer. So I had a table this year! How strange not to be a wandering nomad. How nice to be able to show my stuff. :-) A lot of long-time exhibitors stopped by the table and told me how happy they were that I was finally able to show there. That means a whole heck of a lot to me...
I know I've said it every year, but I'll say it again, I love that crowd. That's a lot of good people, and so much fun to be around. I had a great time, though it was a seriously stressful weekend because one of my good buddies had a medical emergency, so I spent 5+ hours of my Saturday night (and into Sunday morning!) in the ER... (he's okay now, whew!)
Business-wise, well... you could hear the crickets chirping sometimes at the show. It was less crowded than other years, I would have to say. There are a number of reasons for that, which is a long topic in itself and not something I have any need to blog about. Again though, the winds of change are blowing, the guild is undergoing some major changes, and I think this show is going to evolve considerably in the next few years. I have already signed up for my table for next year. It will be in Reno, the first weekend in February.
How about some pics?
Here's a view out the window of the bus in the Sierras on Thursday morning. Barely a sprinkling of snow out there, which is quite a contrast from other years. The drive was totally fine that day, and actually no chains were required on the way back either. So yes, I could have driven myself (I waffle about this every year) and I would have taken more "stuff" if I had driven (like my microscope) but considering I slept for half the bus trip, both ways, and it only costs $35/round trip, it's a pretty sweet deal. And there weren't more than about a dozen people on it, so it's pretty nice!
This isn't a great pic because the bus windows are reflecting, but those are some seriously strange clouds I was seeing as the bus approached Reno.
Here's the view out the window of the Nugget on the morning I arrived. It started to snow in the mountains not too long after this. And then there was a huge fire too...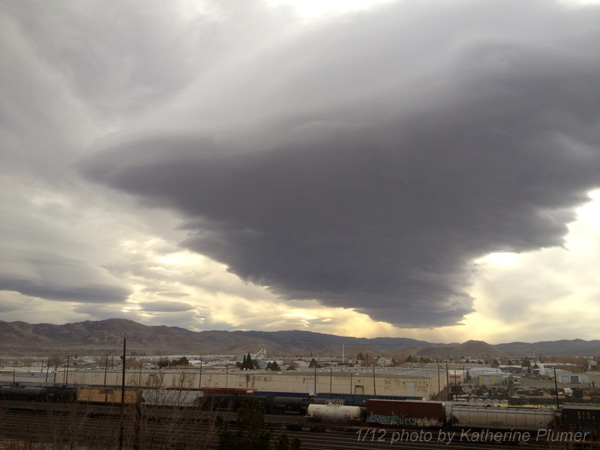 The sunset on Friday, more snow in the mountains that day!
My table, which looks a lot like my table at Blade Show...
Snow! This was Monday late afternoon, taken through the bus window near Boomtown. I fell asleep shortly after crossing the state line, and woke up in Roseville. Yeah... I like the bus. :-)
And I know, just like every other year, you probably think I go to these things just to hang out with a bunch of guys all weekend
(pics from last year here)
. ;-)
John Barraclough, me, Ray Phillips:
Tira Mitchell, Rod Cameron, me: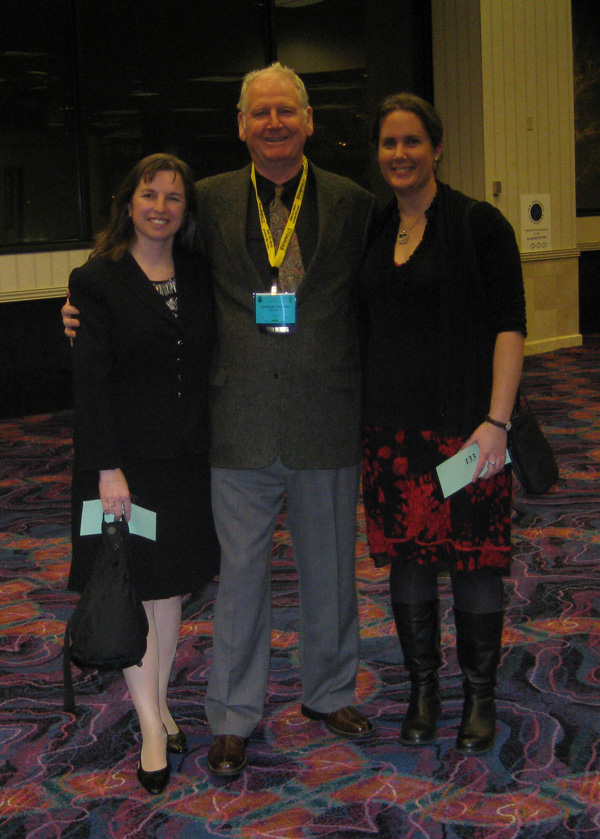 Tim Wells, me: