Gaaahhhhh, sorry about that. Bad me for not blogging. Where do I even begin?
Dragon knife: It's finished. Pardon me while I toot my own horn and say it looks awesome. I won't be showing you the finished pics for a little while. See, I don't have the whole knife to photograph, so I have to send my part back to the William Henry company and then they'll send me a photo of the whole thing. But, since I was showing WIP photos, here's one from a couple of days ago: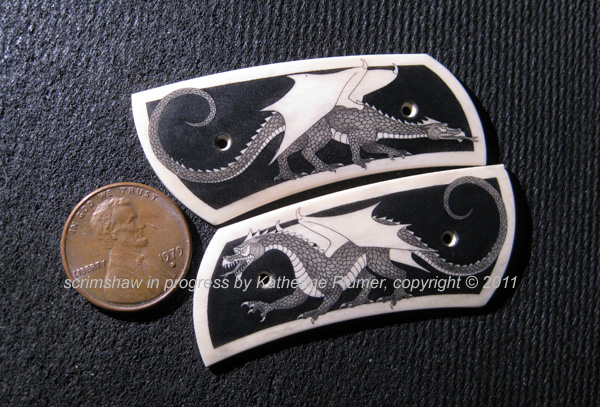 Blade Show is in just over three weeks. I'm excited! But also not ready yet! I seriously can't believe it's been a year since I was there. Lots of changes this year for me, it really feels altogether different. Flying instead of driving has a lot to do with that, but my table will look different, I'm not sharing, I opted for a different part of the show (I still don't have good shoes, eek!), etc. I'd like to do one more pendant before then to take to the show, and actually there's a lot of prep work that needs to be done. Everything has to ship out about a week before I leave, so there isn't a lot of spare time. And I need to come up with something to work on at the show... that won't need electricity, light, or magnification.
Barn Owls: I haven't seen her for days, and there is no noise from the box, nor any fresh owl pellets in the barn. I need to climb up there and look in the box, but I'm sure that there are no babies, for whatever reason.
Hatching chicks: last batch went in the incubator on Sunday, so the last hatch will be the first weekend in June. It's been a crazy crazy season, and didn't go at all as planned. Fertility problems, weird colors hatching, etc. Ugh. I barely ended up with any BBReds, and ended up outcrossing them to Blue and also Brassy Back because I think they're getting too inbred. What a mess. And now my Blacks (which I SWEAR I have never outcrossed to my other colors) are throwing a high percentage of red offspring, so I guess at some point a mis-labeled Black Red ended up in the breeding pens, and goodness knows how many generations that goes back, so I'm really up a creek with them now. I won't be selling any eggs from them anymore. Maybe this is the universe reminding me that I said I was going to focus on BBReds....